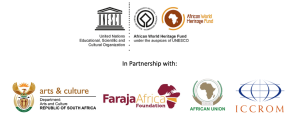 Together with the Africa World Heritage Fund and partners above, we wish to commemorate the Africa World Heritage Day (AWHD) is an opportunity for people around the world to celebrate one of Africa's most precious resources: its irreplaceable cultural and natural heritage. The annual celebration of the AWHD on 5th May was proclaimed by the 38th session of the General Conference of UNESCO in November 2015. It aims to increase global awareness about African heritage and to mobilise enhanced cooperation for its safeguarding. Faced with contemporary threats such as widespread poverty, climate change, uncontrolled development, political instability and now COVID19, many of these wonders are in danger. It is, therefore, more urgent than ever that this heritage is protected and preserved for the enjoyment of future generations.
Therefore, to mark the fifth (5th) edition of this international day, our African States Parties are encouraged during this difficult period of COVID-19 pandemic, to find innovative ways to champion African World Heritage protection and promotion by digitally hosting a wide range of activities related to diverse aspects of World Heritage, with the active participation of local communities and the youth. Under the theme Youth, Entrepreneurship and Heritage Sustainability in Africa.
African World Heritage Day Celebrations – 5th May 2020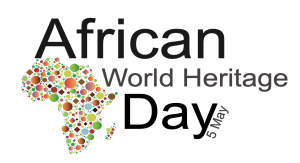 The main AWHD celebrations will comprise a social media campaign, #TogetherApart4AfricanHeritage or #OurAfricanHeritage, from 25th of April to the 25th of May, and a webinar (online seminar) on the 5th of May.
The Social media campaign will harnessing the power of audio, photos, videos and creative professional writing we intend to use online available resources such as social media to gather and share the voices of young people, local communities, professional and influencers on the significance of AWHD and their innovative ways of promoting African heritage during difficult times of the COVID-19 pandemic. The social media campaign will be championed by Faraja Africa Foundation. Participants will answer thematic question in their messages such as
What does AWHD (5th of May) mean to you and your community?
How has the AWHD been celebrated by the youth in your community in the past years?
How has the Coronavirus COVID-19 pandemic impacted your community's way of life and livelihoods?
How has COVID-19 pandemic affected heritage-related business or organization in and around World Heritage in your community?
What innovative approaches can be adopted by various stakeholders (youth, site managers, policymakers, local communities) in response to the effects of COVID-19 pandemic to safeguard and promote African World Heritage?
How can the general public be involved in celebrating AWHD while staying at home to help reduce the spread of the coronavirus?
On the 5th of May, the Chairperson of the Chairperson of the African World Heritage Fund, will host an online seminar/debate. This 1h and 30min event will gather 200 participants from Africa and in the diaspora, mostly youth, and the discussion will be led by a diverse panel comprising policymakers, young entrepreneurs, local community leaders, and representatives from key AWHF partners such as UNESCO and ICCROM. The webinar will consist of interactive oral presentations from youth participants and experts from different fields (e.g. business, leadership, heritage, etc.) combined with discussions from the participants.
The Campaign Will go in Four Phases;
Knowledge mobilization: Ongoing
Content formulation: 25th- Ongoing
Social Media Campaign 27th – 4th May 2020
Online Conference (Webinar) 5th May 2020
Guidelines for Capturing Photos and Filming Videos
Device to use: Use a professional video camera or a mobile phone with a high-resolution camera.
Format: High Definition (HD), ensure you set the phone to 1920×1080 or less depending on phone power.
Orientation: Landscape not Portrait (phone must be turned to the side horizontally and not vertical)

Background Setting: Film in a quiet place for good sound provision and speak clearly. Avoid contrast. If the background is sunny, you should be in the sunshine; if the background is in the shade, you should be in the shade too.
Filming: If needed, find someone to hold the phone/camera steady or use a camera stand, to avoid a shaky video. Stand close to the phone/camera.

Length: You can take multiple videos and create a single montage that illustrates your point effectively: the footage should depict with your image clearly shown up-close and not from a distance, this will ensure your voice is heard and are in focus and should not exceed 59 seconds.
Language Structure of Testimony: 85-90% in French or English and 10-15% in other language (Arabic, Portuguese or any African language). For example, start your testimony in English or in French and conclude briefly in any other preferred African language.
 Consent and Copyright
All participants who will submit material to the G-Suite platform will be given a written consent form acknowledging that the African World Heritage Fund and the implementing partners (mentioned above) may use their pictures, videos and other content produced during this campaign for non-commercial purposes.