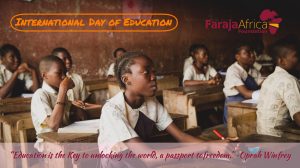 "Education is the key to unlocking the world, a passport to freedom." ~Oprah Winfrey. Today we join the world in Celebrating the International Day of Education in light of last year's International Youth Day theme: Transforming Education. As our organization, we believe in using creative advocacy to push for policy reformations and that's through our YEPA Program; the National Youth Parliaments and the East African Youth Parliament. At the same time, know that everybody has a role to play in achieving quality education. As a follow-up from last year's Youth Parliament resolutions, on 27th December 2019, we under the support from Action Aid Uganda organized a regional dialogue in Eastern Uganda, Mbale under the theme: "Quality Public Education the Great Equalizer" hence Igniting National Debate on Addressing Inequalities in Uganda's Education System hence Transforming Education as informed by Chapter XVIII of the 1995 Constitution of the Republic of Uganda (Educational objectives (I), (ii), and (iii).
As we speak, today the teacher-student ratio is 1-70 (and above) leaving no room for special attention to the learners. To make matters worse, there is less attention given to students with special needs. Due to less funding, schools can equally not afford to feed their students yet a child has to study for over 8 hours a day on an empty stomach, how effective would that study be? Increasingly, budgetary allocation goes to cover other sectors rendering education as a non-priority area. Did we also mention the poorly paid teachers? Who resorts to giving more time to more income-generating items that the teaching they are meant to do? This has been a back and forth debate leaving the underpaid with less and the already overly paid civil servants getting salary increments. Updating of the National Curriculum from bottom to top institutions of higher learning. One would say the current curriculum isn't too relevant to the current social, economic and political needs of our society. It is too theoretical than practical hence knowledge gathered cannot be transformed into action for sustainable development.  We also advocate for the inclusion of mandatory extracurricular activities to help boost youth social fitting hence determining their mental and sexual health. There is a lot more to speak-out on and advocate for transformative change.
Therefore, basing on this background, it's important to inform you, it's not been all bad since 1997 when the Ugandan government introduced Universal Primary Education (UPE), it was widely heralded as a huge success in boosting enrolment figures and ensuring access to basic education for children in Uganda. However, the liberalization of the education sector in 1993 has since threatened the much-desired success of the UPE Program. Mindful of the basic civic right of all Ugandan citizen to participate in the affairs of government whether individually or through citizen's organizations'; and aware of our desire to participate in peaceful activities to influence the policies of government through our organization as a way of contributing towards the well-being of the community where we live. Hence, we concluding by calling upon all stakeholders to join the struggle in advocating for a transformation of the education sector so as to achieve quality education.
Happy International Day of Education.