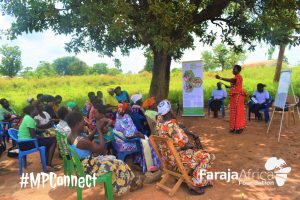 On cialis pas cher the 10th November 2017, Faraja Africa Foundation launched its pilot project MP CONNECT with our 1st Project beneficiary, the Alebtong Woman Member of Parliament Hon. Christine Achen. During the 2 day event, we pioneered the start of a 35 youth participant social entrepreneurship academy and held a successful locally based 40 community women situation room dialogue on social justice issues which will later evolve into policies.
Policies have profound effects that last for generations. Well-developed, crafted and implemented policies can provide a clear pathway on how to lift people out of poverty.  Hence through the MP Connect project, seeks to build bridges and transfer knowledge across sectors through constructive dialogue using both traditional and modern public engagement tools. Our approach helps catalyze good governance through effective communication, public service leadership and business development. In the long run we envision a parliament that facilitates the processes of her community social engagement and economic empowerment" We believe that addressing Uganda's complex problems requires empowered, educated and engaged leaders from all sectors.
The project will help strengthen Effective Community Communication & Engagement at grassroots, national, international and online level hence increase social engagement promoting accountability and civic engagement to restore balance and respect in our systems of governance. The project will also help educate MPs and their teams in Digital Skillings and Modern Social Entrepreneurial Skills that will help them increase effective community interventions that will help create economic empowerment. Lastly, through the project, Faraja Africa Foundation will help MPs Strengthen Partnerships in their constituencies for Collective Impact between. This will especially be between parliamentarians and other stakeholders at national, regional and international levels to strategically address issues of public service and governance, human capital and economy and competitiveness. Ultimately connecting Members if Parliament to the people.
-Admin